Remixlive, from MIXVIBES, leads this round-up of last minute iOS 11 updates!
What's new in Remixlive v3.2.1:

This version adds full iOS 11 compatibility + Drag and Drop on iPad.

Use Drag and Drop to move sound files between compatible apps :
- Move packs, samples & recordings between Remixlive & Apple's Files app.*
- Create a loop in our DJ app Cross DJ and play it in Remixlive.*

Remixlive 3 brings finger-drumming with the addition of an extra "Drum" grid. Have a go and tap some beats!

We hope you will enjoy this new version! Leave a review to let us know what you think of it :)
In case of bugs or issues, please contact us at support@mixvibes.com so we can provide help.

*Importing samples and sample packs in Remixlive is only available after unlocking the "Import/Export" In-App Purchase.
What's new in ShowOne - Pro Backing Tracks v1.3.6:

A few fixes for iOS 11 including proper integration of the new Files app for audio file imports.
If you've been enjoying ShowOne and finding it useful in your gigs or rehearsals...please let us know with a new or updated STAR rating and/or review! It really helps spread the word which allows us to add more of the features that folks want. Thanks for supporting indie developers! More to come...
What's new in sir Sampleton v3.3.4:

Updated to support iOS 11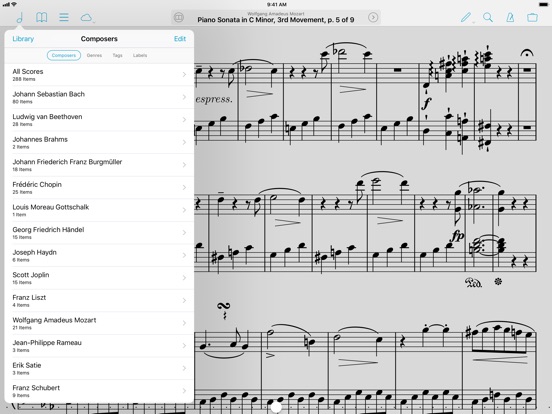 What's new in forScore v10.3.1:

Version 10.3.1 includes several bug fixes and minor improvements. forScore 10.3 brings full support for iOS 11 and leverages Drag and Drop to revolutionize dozens of everyday tasks. It's orders of magnitude faster, more natural than ever, and you really just have to see it to believe it. Visit forScore.co/ten-three to learn more about these incredible new features and more:

• Work like a pro with deeply integrated support for iOS 11's new Drag and Drop APIs
• Find text annotations and page notes anywhere in your library when using the global Search panel
• Search the contents of the current PDF file for occurrences of your query (text-based PDF files only, iOS 11 required)
• Prioritize or hide search result types and adjust other settings with the new Search section of forScore's settings panel
• Tap to highlight the selection tool, then tap again to switch between freeform and rectangular selection modes
• Resize the eraser tool while annotating to better suit your needs
• Adjust the size of links and buttons with new Accessibility options