Frederic Corvest released FAC Chorus, an AUv3 chorus effect. The app emulates classic chorus algorithms and models, with lots of parameters to tweak!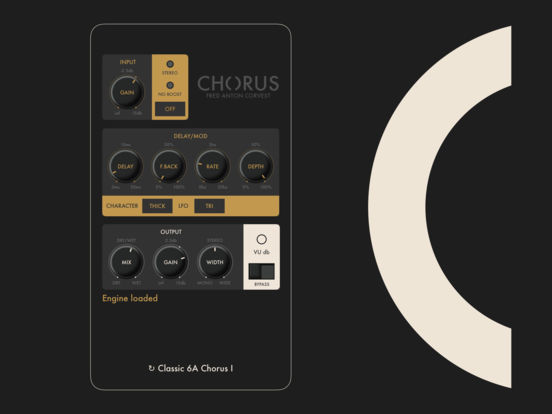 FAC Chorus iTunes Description:

FAC Chorus is a versatile chorus effect emulation designed to simulate the characteristics of the classic chorus modules with the flexibility of customising the parameters of the main components involved in the signal path.

The interface has a unique sober look and provides a great user experience. The knobs are very responsive, natural and follow a specific curve according to the parameters type.

The efffect is built upon two individual delay line paths controlled by common parameters. The behaviour of each delay signal path is defined by the chorus type parameter. Thick type means warm characters and emulates the behaviour of the BBD. Clean type, as the name says, provides a cleaner sound with a larger modulation.

FAC Chorus is suitable for any situation requiring chorus effects and can go from subtle to drastic changes, the factory presets provide an overview of the sonic panel you can obtain.
This arrives with a bunch of demos. Doug Woods posted thesoundtestroom demo this morning. There are also a couple from the developer; including a guitar performance, and here is a general demo of parameters.