Reader Toz Bourne pointed out that BeatHawk's sale today coincides with a major update! The app is now Universal and includes AudioUnit v3 support. There are a lot of other goodies in store as well!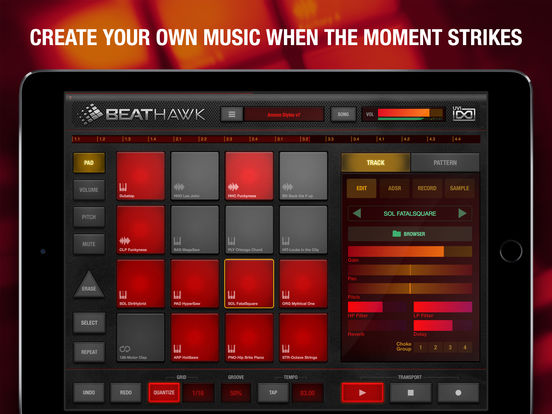 What's new in BeatHawk v2.0.0:

What's new in version 2?
- NEW! Now available for iPhone (5 and newer)
- NEW! Interface optimized for each iPhone device
- NEW! Now available as an AudioUnit V3 plugin
- NEW! Piano Roll Editor for writing and editing Note and MIDI CC
- NEW! Support for Ableton Link
- NEW! Export as Ableton Live project
- NEW! Automate parameters with MIDI Learn
- NEW! Paste audio directly to pads with AudioCopy
- NEW! Copy/Paste pads with clipboard
- NEW! Scale selection in Pitch Mode
- NEW! Loops Markers in Song Mode
- NEW! Accelerometer Velocity and 3D Touch support
- UPDATE! Improved readability in UI
- UPDATE! Improved help section
- UPDATE! MIDI channel support added to preferences
- UPDATE! Improved In-App purchase experience
- UPDATE! AudioCopy updated to v3.2
- UPDATE! Support for multiple touches on a single pad
- UPDATE! Pattern change during playback now snaps to bar
- UPDATE! Mutes now record in Song mode
- FIX! Added hard fixes per IAA / AUv3 host (Auria, Cubasis)
The update arrives with a whole bunch of new videos, and starts off with a showcase by Andrew Huang.