Discchord Reader Rating: Needs Votes
This app has not been categorized.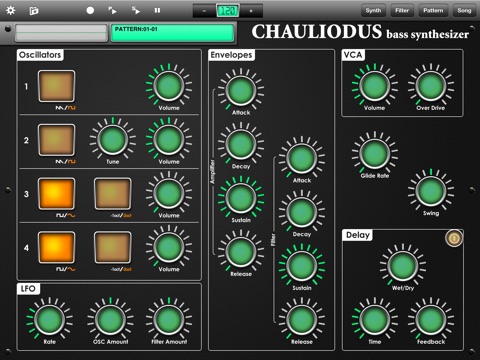 App History
update
Version 1.4
Oct 10, 2014
update
Version 1.3
Apr 11, 2013
update
Version 1.2
Apr 02, 2013
update
Version 1.1
Mar 18, 2013
fiber_new
New App: $2.99
Mar 04, 2013
Other apps by Sobal Corporation
App Store Description:

Chauliodus is a synthesizer that specializes in the bass.
You can play the bass line from built-in sequencer, external MIDI devices, external sequencers, and other iOS applications.
It is possible to change the parameters of the filter by using gyroscope; you can get interesting effects by shaking the iPhone or iPad.
You can also enjoy dubstep wobble bass since LFO rate is synchronized to the tempo, and settable by each step!

Specifications:

Implemented Features:
- OSC x 2
Saw Wave / Square Wave
- SubOSC x 2
Square Wave / Sine Wave
- Glide
- Filter x 1
LPF/BPF
Manipulate the CutOff Frequency and Resonance by using gyroscope.
- EG x 2
- LFO x 1
- FX
Delay
Over Drive
- Real-Time Recording
- 16 steps Pattern Sequencer
- 300 bars Song Sequencer

Others:
- Wireless Sync-Start Technology (WIST) is supported.
- AudioCopy is supported.
- CoreMIDI is supported.(MIDI in only)
- Supported background playback.
- Universal support for iPod touch, iPhone, and iPad.

-----
AudioCopy is a trademark and software of Sonoma Wire Works.
WIST is a trademark and software of KORG INC.
What's new in v1.4

- iOS8 Support
- Added the ability Inter-App Audio
iPad Screenshots: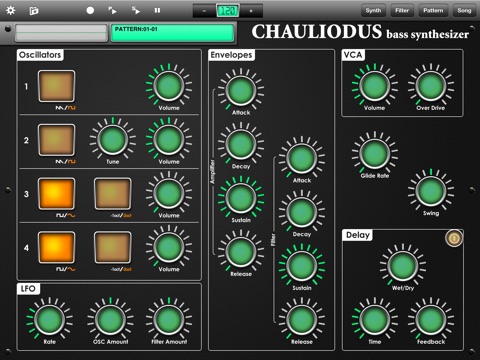 iPhone Screenshots: