Discchord Reader Rating: Needs Votes
This app has not been categorized.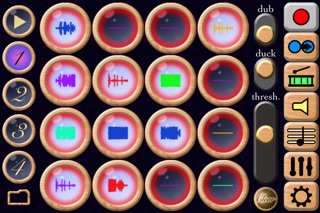 Other apps by Bolasol, Inc.
App Store Description:

**Special introductory sale!**

This is the iPhone version of WerkBench. It has been completely redesigned for the iPhone and touch devices!

WerkBench is a new type of beat box with a playful interface and powerful features.

At the heart of WerkBench for iPhone is a step sequencer that let you instantly sample sounds into any place in the rhythm and then alter those sounds in real-time.

The concept is simple and powerful. You will be making beats and cool rhythms in seconds... and all of the sounds will be unique to you!

Check out the videos on our website to get a better sense of what is happening here: www.bolasol.com/werkbench

WerkBench features:

--"Fancy Controls" (pitch, lowpass filters, envelopes, and more!)

--Edit pitch and level independently for every step!

--Funky lo-fi tape echo for spacey effects.

--Save and load loops or whole sets of 4 patterns.

--Export loops and recordings via Audio Copy, iTunes file sharing, and email.

--Custom scales (never play a wrong note!)

We hope you love it!

Requirements: iPhone 3gs and up.
iPhone Screenshots: