Discchord Reader Rating: Needs Votes
This app has not been categorized.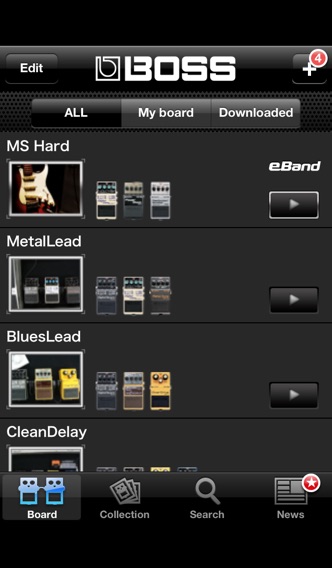 App History
update
Version 2.2.0
Jan 29, 2014
update
Version 2.1.0
Feb 08, 2013
update
Version 2.0.1
Feb 28, 2012
update
Version 2.0
Feb 23, 2012
update
Version 1.2
Mar 31, 2011
update
Version 1.1
Dec 01, 2010
fiber_new
New App: Free
Sep 01, 2010
update
Version 1.01
Sep 01, 2010
Other apps by Roland Corporation
App Store Description:

Since 1976, BOSS pedals have been loved by many guitarists and bassists.
The shape of the pedals have never been changed since the first model, OD-1, was released, and BOSS pedals have always been on the frontlines. The first BOSS iPhone application was released in 2010 allowing players to review sounds and get knob settings. And now it's been upgraded with new features.


Features

● Custom pedal settings

Favorite settings can be saved on the pedal boards in this application. There's a variety of utilities such as saving different settings for each song or recording the settings of favorite artists, and changing the connection order of pedals in the board. Recommended pedal boards can be downloaded on the web. Also, backing tracks are available for the recommended pedal boards.

● Zoom and control knobs, save detail settings.

You can zoom into the knobs by tapping the display. You can create your favorite tones and save them. All compact pedals, including the past models, are available.

● Recording the sample sound, and save pictures.

With the iPhone's microphone, for example, you can record the sounds created for gigs. Also, the picture can be saved. Save your memorable gig photos or take photos of amp settings.

● Product search and sound preview

You can search the any of the compact pedals and preview their sound. You can find your favorite tones. Also, you can get BOSS news including regular information about new products.
What's new in v2.2.0

The new Compact Effects OD-1X and DS-1X added to the collection.
iPhone Screenshots: