Discchord Reader Rating: Needs Votes
This app has not been categorized.
App History
arrow_drop_down
Free
Oct 08, 2013
update
Version 1.2.5
Oct 07, 2013
update
Version 1.2.4
Nov 01, 2012
update
Version 1.2.3
Oct 29, 2012
update
Version v1.2.2
Jul 27, 2010
update
Version v1.2.1
Jul 13, 2010
update
Version v1.2
Jun 04, 2010
update
Version 1.1
Feb 06, 2010
fiber_new
New App: $1.99
Nov 25, 2009
App Store Description:

********************************************
Please note: I am no longer supporting updates to this app. It's free! hope it works for you.
********************************************

Audio palette is an innovative instrument that allows you to remix looped tracks in a new way.

In audio palette each sound is represented on the screen as a circle. The closer your touch is to the center of the circle, the louder the sound. Your performance is automatically recorded and looped back with perfect timing accuracy allowing you to create a new loop built from your remix. You can switch instantly between the touch recordings to create yet another layer of performance. The software also allows you to edit the positions and sizes of the circles on screen, so you can develop your own style of play.

Audio palette includes custom samples provided by legendary rock music producer and ambient music pioneer Brian Eno, as well as from Andrey Gladkov of TriHorn productions, myself and the inimitable Octafuzz.

Enjoy!

To see a video of audio palette in action, please go to www.audiopalette.net

Features:
- 5 audio palette sample sets
- Automatic looping with high accuracy timing for perfect loops
- Edit mode with ability to move and size palette circles
- upload your own sample loops via wifi using the built in HTTP server in v1.2, as well as with the audio palette companion app for mac users.
- supports all device orientations (iPad only).
- upload via iTunes share folder as well as wifi upload support (iPad only).
- uploaded palettes can contain up to 32 stereo or mono samples on iPad, 16 on iPhone/iPod touch.
- uploaded palettes can be as large as 50Mb on iPad, 25 on iPhone/iPod touch.


Requirements:
-Compatible with iPhone and iPod touch
-Requires iPhone 3.0 or later

Requirements to use audio palette companion app:
-mac OSx 10.5 or later
-a wifi connection shared by the phone and computer.

The audio palette companion app is available for free at www.audiopalette.net in the downloads section


For questions or feature requests send e-mail to info@audiopalette.net

Credits:

audio palette
by Kent Jolly

palette samples provided by:
Brian Eno
Kent Jolly
Octafuzz
Andrey Gladkov

Special thanks to:
Justin Graham

Audio Engine:
FMOD Sound System
copyright © Firelight Technologies Pty, Ltd., 1994-2009.
What's new in v1.2.5

ios7 compatibility
graphics improvements
iphone5 screen size fixes
screen capture fix
iPad Screenshots: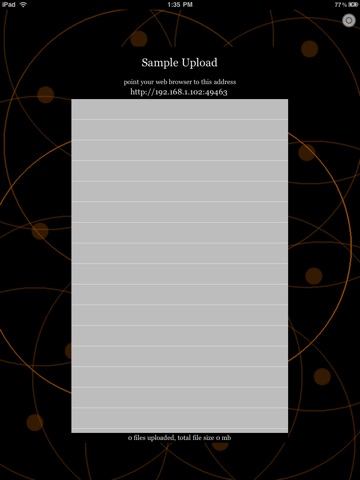 iPhone Screenshots: