Today iceWorks, Inc. released Redshrike Synthesizer for iPhone! It has been quite a long time since iceWorks released an iPhone only synth, but they were among the first to get that ball rolling with ARGON back in 2009.
Redshrike is a polyphonic subtractive synth, with built in effects. If you need more you'll be able to do that via both Audiobus and Inter-App Audio. The initial release version even comes with Ableton Link to sync up the arpeggiator. Redshrike arrives at 40% off, for a limited time.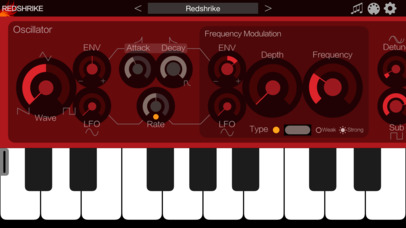 Redshrike Synthesizer iTunes Description:

Polyphonic Subtractive Synthesizer

* Oscillator
- Waveform Morphing: Saw - Triangle - Pulse
- Frequency Modulation: Type, Frequency, Depth
- ENV(AD)/LFO
- Detune (3xOSC)
- Sub Oscillator
* Pitch
- Octave
- ENV(AD)/LFO
- Drift
* Noise
- Type: White, Pink, Blue, Pitched, Digital, Glitch
- ENV(AD)
* Resonator
- Pitch/Feedback/Routing
- ENV(AD)/LFO
* Filter
- Type: 24dB/Oct, 12dB/Oct
- Cutoff Frequency
- Resonance
- Drive
- Low
- ENV(ADSR)/LFO
- Velocity
* AMP
- Level
- ENV(ADSR)/LFO
- Velocity
* Effects : Chorus, Delay, Reverb

* Programmable Arpeggiator
You can easily create your own pattern.

* Inter-App Audio
You can stream live audio directly to other Inter-App Audio host applications.

* Audiobus
You can stream live audio directly to other Audiobus-compatible apps. See http://audiob.us for more information.

* Ableton Link
Ableton Link is a new technology that synchronizes beat, phase and tempo of Ableton Live and Link-enabled iOS apps over a wireless network.

* MIDI
* CoreMIDI / Virtual MIDI Input
* MIDI Controller Mapping with MIDI Learn
* External MIDI sync

* Resizable Keyboard
You can change which octaves are shown by dragging on bottom of keyboard.