YouTuber Lucid Music did an excellent Deep House set in Gadget with iMono/Poly!
AUM - Audio Mixer, from Kymatica, was updated with integrated Bluetooth LE MIDI, MIDI Clock send, and a bunch of fixes!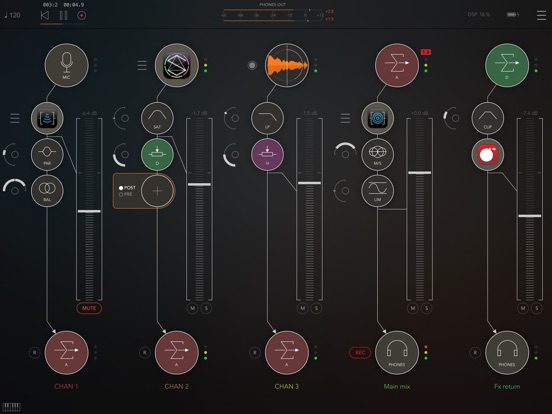 What's new in AUM - Audio Mixer v1.2.1:

• Implement MIDI Clock Send for synchronizing your external hardware.
• Add Bluetooth LE MIDI to Settings menu.
• Show indicator dot on NOTES icon in menu if there are session notes.
• Finish recording directly if stopping transport while waiting for synchronized record-stop. (Fixes rare missing recordings!)
• Add workaround for AU plugin memory allocation iOS bug.
• Fix an issue restoring MIDI mapped AU parameters for some plugins.
• Fix a bug in IAA MIDI parsing.
• Avoid rare crashes caused by malformed MIDI packets.
• Updated Audiobus SDK to 3.0.3b3.
• Tweaked splash animation, less delay, show no version string.
• Various minor fixes and tweaks, as always!
Elastic Drums, from O-G-SUS, was updated with improvements to the Master EQ and efficiency of the audio engine. The update also features a new IAP sample kit by synthQ developer Bill Jobs.
What's new in Elastic Drums v2.1.2:

- New In-App Purchase sample kit by Bill Jobs, the creator of synthQ
- improvement: master EQ has more possibilities now
- improvement: parts of the audio-engine got vectorized, which should save up to 10% cpu
- several small bugfixes and improvements
The new sample kit arrives with some truly mad demo videos! PCP - not even once.