Hardware manufacturer AtomoSynth just released iAbyssal! This Universal "virtual analog photo-synthesizer" is controlled by light from your iOS device's front-facing camera. AtomoSynth has been making experimental hardware synths for quite a while now, and this app is based on their hardware Abyssal synth from 2008.
iAbyssal arrives with Audiobus 3 and IAA! While these are welcome additions in any app, they're especially nice to see from a first-time iOS app developer!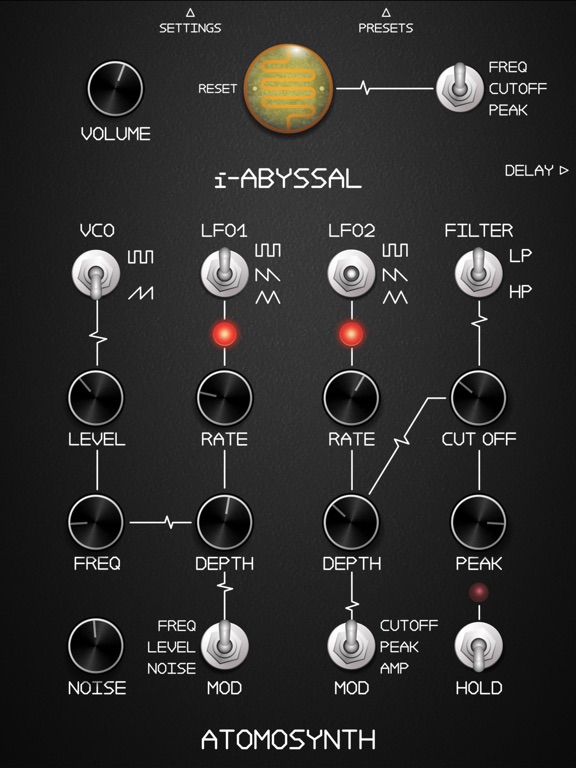 iAbyssal iTunes Description:

Introducing: iAbyssal, virtual analog photo-synthesizer / noise machine.
Based on the Abyssal analog photo-synth released by AtomoSynth in 2008. the iAbyssal is a virtual analog synthesizer that can be controlled by light using the frontal camera, this design allows using it for expressive live performances and having fun creating crazy sound effects, incredible sound textures and big soundscapes.

* Uses your device frontal camera as a light sensor for altering pitch, filter frequency and resonance.
* "Photocell" (frontal camera) calibration functionality for adjusting its sensitivity to different environmental light conditions.
* Can be used in low-light environments thanks to an inverse calibration feature.
* Features one oscillator with square and sawtooth waveforms.
* White noise generator.
* Two low frequency oscillators (LFO) which can modulate various parameters of the oscillator, noise generator and filter.
* One Filter with low pass and high pass mode and resonance (peak) control.
* Adjustable delay effect.
* Preset memory including many factory presets for using as a starting point and easily create your own sounds.
* Inter-App-Audio and Audiobus support (as generator unit) for using it with your favorite audio apps.
Skiphunt spotted a demo for this one on the official AtomoSynth YouTube channel.