Numerical Audio, developers of effects apps RP-1 and RF-1, have released VC-1. This "vintage chorus" effect features analog, digital, and vintage digital chorusing models. There's also an interesting "stereo animator" in here to add some extra movement. VC-1 arrives with MIDI, AUv3, Audiobus 3, and Inter-App Audio support.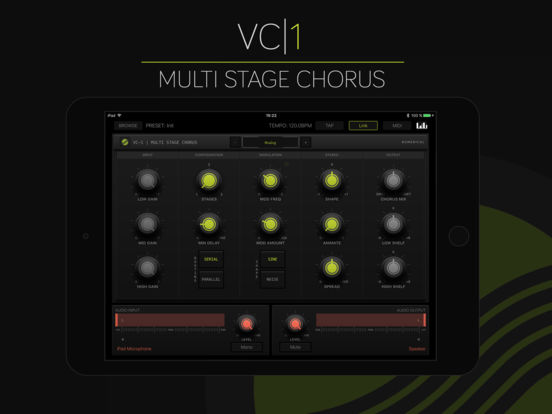 VC-1 iTunes Description:

VC-1 - Multi Stage Chorus

VC-1 is a flexible, vintage voiced chorus effect capable of delivering many classic chorus sounds but it doesn't stop there. Featuring several true stereo algortihms with up to 3 chorus stages per channel, parallel & serial configurations, a 3 band split input section and much more VC-1 offers almost endless posibilites for new, extreme or unconventional effects.

Overview:
* 3 unique chorus models (Analog, Digital, Vintage Digital)
* Up to 3 chorus stages in either serial or parallel configuration
* Modulation via sine LFO or lowpass noise
* Fixed 3 band split input section and +/-6db shelving filters at the output
* Advanced Dimension D style stereo coupling
* Stereo Animator & true stereo processing throughout

Programs:
1. Analog
Warm sounding analog voiced chorus utilizing a BBD (bucket brigade delay) emulation and Dimension-D style cross-coupling.

2. Digital
Bright & modern sounding digital chorus (full bandwith).

3. Vintage Digital
Dark & noisy vintage voiced digital chorus (10khz bandwidth / 12bit processing).

Connectivity:
- Audio Unit Extension
- Inter-App Audio Effect
- Audiobus 3 (Filter)
- Ableton Link
- USB Audio
- MIDI Control (Network, USB, Bluetooth)
Doug Woods from thesoundtestroom has already posted his demo for the app!