Audio Damage, Inc. released Pumphouse, an AUv3 compressor with faux-sidechaining.
For those of you unfamiliar with the concept of sidechain compression, it is the source of that "breathing" quality on a lot of EDM synths. You take one audio signal and use it as a controller to affect the compression on a second. The most typical scenario would be to take your kick drum and use that to cutout your bass. So when the kick hits it kills the bass for a fraction of a second, and as the compressor releases it gives the bass a nice bloom. The effect was endemic to EDM 5 years ago, but it is still a nice effect when used tastefully.
Rather than deal with routing audio all over to do a real sidechain compressor, Pumphouse includes a step-sequencer to achieve the same effect... let's be honest, you just need it to hit on the 1s in a 4/4 anyhow.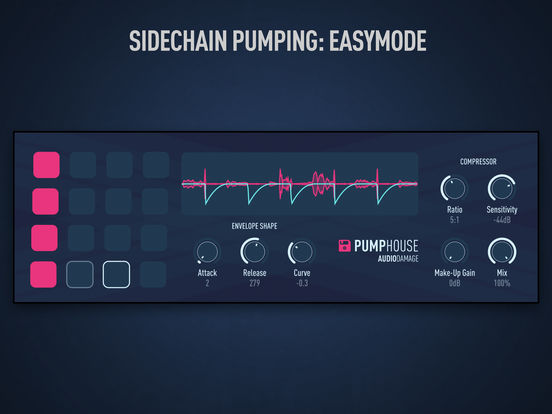 Pumphouse iTunes Description:

What do you do when you need the sidechain pumping effect in an iOS DAW that doesn't have sidechaining? Pumphouse to the rescue!

Pumphouse is a simple and excellent compressor (taken straight from our RoughRider 2 codebase) coupled with a step sequencer driving an envelope generator. In this manner, you can sidechain-compress your pads or bassline against a 1-measure pattern, no other inputs required.

With an easy-to-understand interface, Pumphouse is a quick method for getting That Sound.

Pumphouse requires transport information to work. Please note that some iOS AUv3 hosts do not have a transport. (At this time, Auria Pro that we're aware of.) There is an Inter-App Audio version supplied, but it also requires transport info.

We have tested and approve the AUv3 with AudioBus 3, Cubasis, GarageBand, AUM, ModStep, Zmors Modular, and Beatmaker 3.
thesoundtestroom has already posted his demo, and congratulations to Doug on 1,000 videos! Holy shit, that's impressive! Here is the official promo video for Pumphouse from developer Chris Randall.