Discchord Reader Rating: Not Enough Votes
This app has not been categorized.
iTunes Description:

Easily make your own beautiful ambient background music. Generate new melody, MIDI, text ideas. Use playlists for relaxation & sleep or playing generative music for installations. Users say: "hands down the best generative software that I have ever used", "best MIDI composition tool in my toolkit", "Extremely musical", "Brilliant", "Love Wotja!".

EASY & DEEP
You don't need to be a musician to use Wotja - anyone can learn to master its power; see our helpful video tutorials.

CREATIVE & SATISFYING
Mixing, composing or designing YOUR OWN custom high quality generative music is creatively rewarding on so many levels. It's like enjoying freshly brewed coffee; there's nothing quite like it!

USES
• Create & record your own custom, high quality, license/royalty free relaxing background music for videos, art, meditation, yoga etc.
• Create "reflective" melodies using "Text-to-Music"; use text in ANY language and/or emoji
• Experiment with sound design, generative music composition, MIDI input interactivity etc.
• Drive other MIDI synths via MIDI Out
• Help break writer's block with new ideas for lyrics, songs, poems, haiku, stories etc.
• Playlist live chillout music for art installations, small shops etc.*

KEY FEATURES/CAPABILITIES
• Create beautiful mixes from hundreds of editable "generative music" templates
• Use up to 48 independent content cells in 12 tracks for mixing/generative cell sequencing
• Make + export/share mixdown recordings (48Khz Stereo WAV, MIDI)
• Adjust mix tempo, root, randomisation settings etc.
• Create playlists
• Play continuously for up to 1 hour [Music Play Time] (extendable via "XT" In-App Subscription tiers)
• Use your own SF2 wavetables or WAV/Ogg loops (we also provide some free add-on Paks)
• Supports multi-channel MIDI Out/In via CoreMIDI & Virtual MIDI
• Support for Inter-App Audio & Audiobus 2/3
• Support for iCloud & iCloud Drive
• Open Noatikl & Mixtikl files
• "IME" Generative MIDI Music Engine with over 130 user-editable parameters including "Text-to-Music"
• "ISE" Sound Engine with powerful multi-unit modular synth, FX, General MIDI set + several high quality SF2 files
• "ITE" Cut-up Text Engine featuring word locking, syllables, word alternatives, 5 source fields, user editable word library & word bank
• Much more...

"FREE USE" LIMITATIONS
• Mix: Save/export Cell 1; MIDI Out/In Channel 1; Up to 1 min Music Play Time (press play to restart); No mixdown recording feature
• Cut-Up: Data not saved; Some restrictions on text export/edit & use of syllables

6 MONTH IN-APP SUBSCRIPTIONS
• $4.99 Wotja Unlocked (3 DAY FREE TRIAL): Unlocks "Free Use" Limitations in Wotja

* Specialist Tiers (for continuous background music)
• $7.99 Wotja XT1: Unlocked + Music Play Time up to 8 hours
• $12.99 Wotja XT2: Unlocked + Music Play Time up to 1 day
• $19.99 Wotja XT3: Unlocked + Music Play Time up to 7 days

DON'T LIKE IN-APP SUBSCRIPTIONS?
• Get Wotja 2017, the paid for version of Wotja!

SUBSCRIPTION NOTES
• Price above shown for US region.
• Each Subscription Period is 6 months, auto-renewing (it is *EASY* to turn off auto-renewal if you want to).
• Payment will be charged to iTunes Account at confirmation of purchase. Subscription automatically renews unless auto-renew is turned off at least 24-hours before the end of the current period. Account will be charged for renewal within 24-hours prior to the end of the current period. Subscriptions may be managed by the user & auto-renewal may be turned off by going to the user's Account Settings after purchase.

LINKS
• Info, FAQ & Guide: https://intermorphic.com/wotja
• Forum & Videos: https://forum.intermorphic.com/viewforum.php?f=67
• Privacy: https://intermorphic.com/privacy
• Terms: https://intermorphic.com/tos

NOTES
• FREE Loop Paks - https://intermorphic.com/pak

FEEDBACK
Please send it to @intermorphic on Twitter, via our forum or through our website contact form. We're always improving Wotja!
What's new in v4.10.1

4.10.1
- FIXED: Issue with some selector screens (Voice/Piece parameters) (sorry!)

4.10.0
- Added a new "Single Cell" display mode (shown as one of the app images); for those familiar with "Noatikl" it allows you to focus on just one cell / template when editing
- "Multi Column" [Grid] and "Single Column" display modes are still included and all 3 are accessed via what was the right hand collapse/expand button (now called the Mix Display Mode button)
- Added a link to our new Video Tutorials in Settings > Info; these are short tutorials that should help you get going in Wotja
- Simplified the naming of our In-App Subscription tiers (no changes to capabilities): Was: "Wotja (Unlocked)", Now: "Wotja Unlocked"; Was: "Wotja XT 8h", Now: "Wotja XT1"; Was "Wotja XT 1d", Now: "Wotja XT2"; Was "Wotja XT 7d", Now: "Wotja XT3"
- Related to the above naming simplification, the User Guide nows refer to "Free Use" Limitations rather than "Free Mode" Restrictions
- Various bug fixes

If you have any feedback or comments we'd love to hear from you at support@intermorphic.com
iPad Screenshots: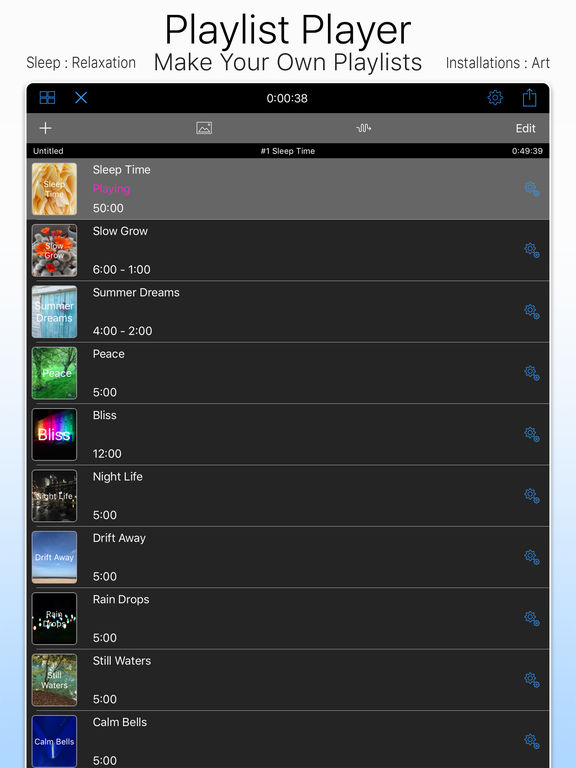 iPhone Screenshots: