Discchord Reader Rating: Not Enough Votes
This app has not been categorized.
iTunes Description:

Looking for new ideas? Music, Words? Wotja uses "Generative Music", "Text-to-Music" and "Cut-Up Text" techniques to help break creator's block; it makes beautiful relaxing music, too! Users say - "Best generative music app", "best MIDI composition tool in my toolkit".

USE WOTJA TO:
• Help break composer's block with new ideas for melodies, songs, etc.
• Help break writer's block with new ideas for lyrics, songs, poems, haiku, stories, copy writing etc.
• Create, play & playlist high quality, royalty-free soundscapes: ambient, drone, relaxation, mindfulness, experimental etc.
• Experiment with generative (MIDI) music composition and sound design
• Drive other MIDI synths via MIDI Out
• Generate relaxing music

GENERATIVE MUSIC MIXER, COMPOSER:
Easily mix together 100s of editable generative music templates (randomly or manually). Customise as you wish with editors for generative music composition, text-to-music and sound design. Wotja's MIDI generating music engine has over 130+ parameters. Wotja's sound engine features many modulatable sound units, FX units & SF2 (you can also use your own) and allows use of audio loops in Paks. Supported: Core MIDI / Virtual MIDI Out/In, Inter-App Audio and Audiobus.

CUT-UP TEXT EDITOR:
Generate cut-up text to create new ideas and constrain by lines, words and syllables. Randomly select words from up to 5 user entered Source text fields + User Library + Wotja Word Bank or Word Database. Lock what you want to keep and iterate until you are done.

CREATIVE RELAXATION PLAYLIST:
Use random mix generation and text-to-music to quickly & easily create beautiful, personal "reflective music" mixes for your own Playlists.

FREE:
In FREE operation you have access to EVERYTHING in Wotja for iOS (cut-up creation, mix randomisation, generative templates, generative parameter editing, synth editing etc.).

LIMITATIONS:
• FREE operation - Cut-Up: Data NOT saved, Some restrictions on text export/edit/syllables in rules; Mix:
Save/export cell 1 ONLY, MIDI Out/In ch 1 ONLY, Up to 1 min Music Play Time

IN APP SUBSCRIPTION TIERS:
• ESSENTIALS ($4.99) - Cut-Up: Save data, Unrestricted text export/edit; Mix: Save/export column 1 cells, Up to 1 hour Music Play Time
• PRO ($6.99) - As ESSENTIALS plus… Cut-Up: Use syllables in rules; Mix: Save/export all cells, Multi-channel MIDI Out/In, Up to 8hr 53m Music Play Time

DON'T LIKE IAP SUBSCRIPTIONS?
• That's OK, get "Wotja Pro 2017" for iOS instead!

SUBSCRIPTION NOTES:
• Prices above shown for US region.
• Each Subscription Period is 6 months, auto-renewing (it is *EASY* to turn off auto-renewal if you want to).
• Payment will be charged to iTunes Account at confirmation of purchase. Subscription automatically renews unless auto-renew is turned off at least 24-hours before the end of the current period. Account will be charged for renewal within 24-hours prior to the end of the current period. Subscriptions may be managed by the user and auto-renewal may be turned off by going to the user's Account Settings after purchase.

ROAD MAP:
Wotja for iOS is not Liptikl, Noatikl, Mixtikl or Tiklbox for iOS. It's a new tightly integrated app that coopts the best of each (+ more besides) and provides a forward migration path for files created in them. Bottom line: We're better able to improve usability and deliver important new features & creative possibilities.

LINKS:
• Guide: https://intermorphic.com/wotja/guide
• Forum: https://forum.intermorphic.com/viewforum.php?f=67
• Privacy: https://intermorphic.com/privacy
• Terms: https://intermorphic.com/tos

NOTES
• If you make and/or share a wotja make sure you don't infringe the copyright of others.
• Wotja is required to play a Wotja File or Wotja Music URL.
• FREE Loop Paks - https://intermorphic.com/pak

FEEDBACK?
Please send it to @intermorphic on Twitter, via our forum or through our website contact form. We're always improving Wotja and we hope you find it to be useful. Thanks for your support & interest!
What's new in v4.3.0

This update to Wotja is mainly focused on the Cut-Up feature, which we've made much more flexible and powerful. We've also re-organised the UI a small amount; we've added some new menu items when you press the "Add" button, and we've taken the opportunity to improve the order of the tab buttons in the main screen.

NEW CUT-UP TEXT FEATURES:
- Syllables: The rule format has been extended to allow specifying how many syllables you want in a line; this is great for creating Haiku (which are 3 line poems with 5,7,5 syllables) as well as lyric ideas perhaps to fit to a number of notes.
- The rule format now supports value ranges for word and syllables and also naming of rules.
- A new rule editor is included that makes it easier to create new rules and modify existing ones.
- A new (non-editable) Wotja Word Database is included which can be selected instead of the user editable Wotja Word Bank and helps come up with some more unusual word combinations. You can configure this using the new controls in the Library screen (get to it by pressing the button to the left of the slider in the main cut-up screen).
- A new "Sources Only" cut-up mode that analyses the structure of the Sources text and lets you create cut-up with a more natural feel; in this mode the cut-up is created from Sources ONLY and it uses the active rule (ignoring syllables) but EOL rhyming and word locks are ignored. You can select this using the new button to the left of the main "Cut-Up" button.

IMPROVEMENTS/CHANGES:
- Revised the "Create New" menu items to make it MUCH easier to get going right away. *Wotja Cut-Up* - create a new cut-up without music (you can create a mix later if you want); *Wotja Mix (automatic)* - create a new random mix based on the Randomisation Settings without having to go via the Templates dialog; *Wotja Mix (manual)* - create a mix the old way where you can manually select a file or use a random selection from the tagged paks;* Wotja List (playlist)* - as before.
- Renamed the "Words" tab to "Cut-Up" and moved it to be the first tab.
- Renamed the "Design" tab to "Mix".
- Changed the icon for Mix and Voices tab.
- In the "Cut-Up" tab renamed the "Cut-Ups" section to "Saved".
- In Cut-Up Create panel added a new Lock All/Unlock All action menu item.
- When exporting a cut-up to a tweet, allow the background image in the Wotja file (if any) to be appended to the tweet; the cut-up text can be "baked into" the image if the Display > Text setting is set to "Show Text from Cut-Up"; this is great fun for making and sharing Haiku!
- Cut-Up character counter now also shows syllables used in each line.
- Added new "Haiku" rule to the included default cut-up rules.
- A blank line can now be added to a cut-up by setting the line rule to 0.
- Bug fixes.
iPad Screenshots: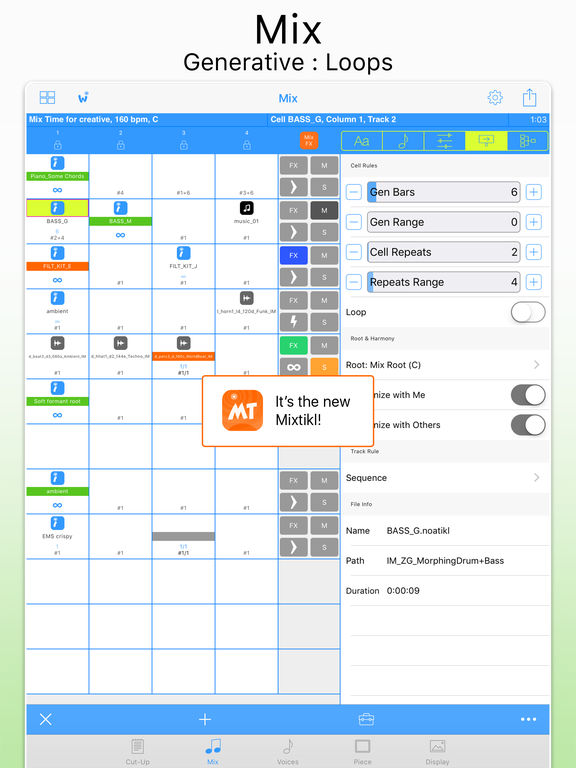 iPhone Screenshots: