Discchord Reader Rating: Not Enough Votes
This app has not been categorized.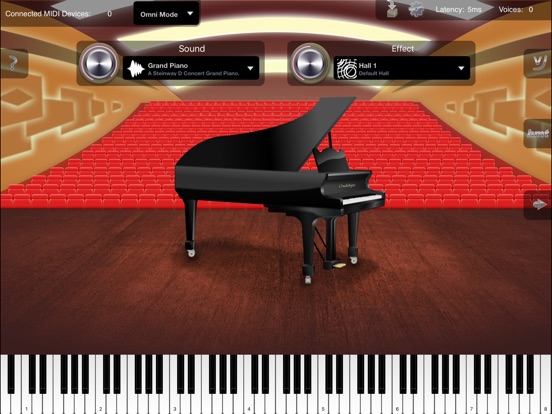 iTunes Description:

The second best sounding piano app in the App Store (after "Colossus Piano")! Convince yourself by watching and listening to the demo video on our product website!

This app supports Bluetooth LE MIDI, as well as Audio Unit, Audiobus, Apple's "Inter-App Audio" System and the "JACK Audio Connection Kit" for audio & MIDI connections from/to other audio apps!

CMP Grand Piano is a high quality virtual piano sound module for your iPad, iPhone and iPod Touch. It is designed for professional usage on stage by connecting an external MIDI keyboard to the iPad / iPhone / iPod touch by using the Apple USB camera adapter or another adapter supported by Apple.¹ In comparison to "Colossus Piano" this app especially has a lower resource consumption and runs thus also on older devices.

CMP Grand Piano provides a very realistic sound by using a very large collection of audio samples of more than 1.7 GB (uncompressed) in size. Various articulations of each key of a real piano were sampled in full length and high quality to assemble this realistic sound. Real-time disk streaming is utilized to playback the respective audio samples with very low latency.

Sound Features:
- Two high quality base sounds ("Grand Piano" and "Jazz Piano") with more than 1.7 GB in size.
- Two additional sounds available as in-app purchase ("Concert Grand" and "Upright Pianino") with additional 1.6 GB and 1.1 GB respectively in size.
- Polyphony up to 140 stereo voices.²
- Configurable audio latency down to 5ms.
- Integrated effects with 17 presets.
- MIDI velocity response curve editor to fine tune the feeling of your MIDI keyboard, save them as presets if you use more than one keyboard.
- App can keep running in the background, so you can play piano while e.g. using Safari or another app to display scores or surfing the Internet.
- Hermode Tuning: Makes the sound more brilliant by controlling the pitch of the notes in multivoiced music to better frequency ratios than with fixed tuning. This dynamic tuning imitates the tuning behavior of well educated musicians with string and wind instruments and of singers in professional choirs.
- Provides Audio Unit v3 plugin version of this app, which allows it to be used as virtual instrument directly within third-party multi-track DAW apps (iOS 9.3).
- Audiobus support.
- Supports Apple's "Inter-App Audio" system for audio & MIDI streaming between other apps.
- Supports "JACK Audio Connection Kit" for audio & MIDI streaming between other apps (up to iOS 6.1.3).

MIDI Player / Recorder:
- Record, save and load your songs in standard MIDI file format.
- Unlimited amount of tracks.
- Unlimited recording and playback length.
- Open MIDI (.mid) files directly from other apps (i.e. from Safari, Mail).
- Download or upload MIDI files with iTunes.
- Load your favorite songs as MIDI files from the Internet, and watch at the virtual keyboard how to play it.
- Metronome.
- Use the "Tempo Zoom" dial knob to i.e. slow down playback at any time and learn your favorite songs more easily.

Note: This app requires quite some hardware resources from the device. In case there are problems with this app, please close apps in the background by double pressing the device's home button, the list of active apps appears on the bottom of the screen, tap and hold one app icon in the list, then press the respective app icon "minus" corner to quit those apps.

¹ For more information about supported adapters and MIDI keyboard devices, please visit our product website.

² Polyphony depends on the exact device model being used. You find a polyphony table on our product website.

Anti-Spy Commitment: We take your privacy very seriously. None of our apps contain so called "spy" behaviors and we committed ourself to a very high privacy standard. For more information about our privacy commitment, read our "Privacy Policy for Mobile Apps".
What's new in v1.13.24

• Switch directly between piano models by tapping on its icon from the piano models overview screen.
• Fixes potential crash which could happen under certain conditions during download of piano models.
• Fixes an issue of the Audio Unit Plug-in version which caused misbehaviors like random audio artifacts, noise and AU crashes under certain conditions.
• Fixes minor graphical issue.
iPad Screenshots: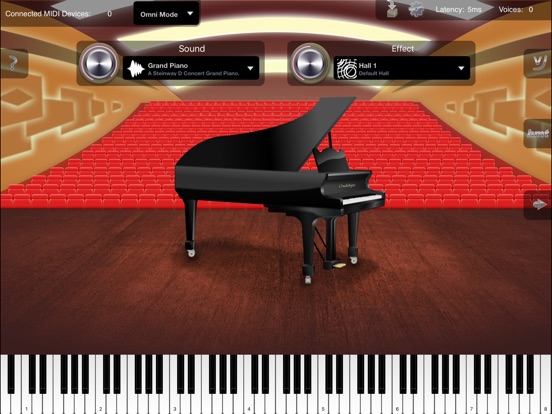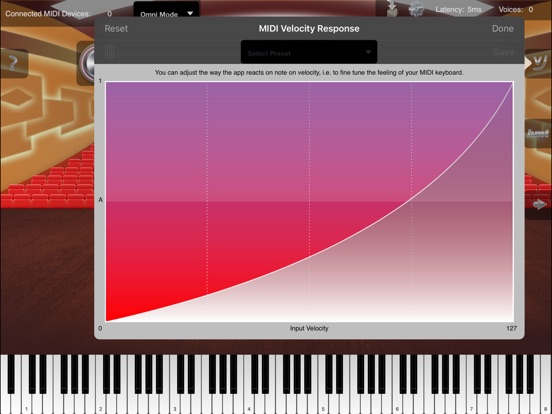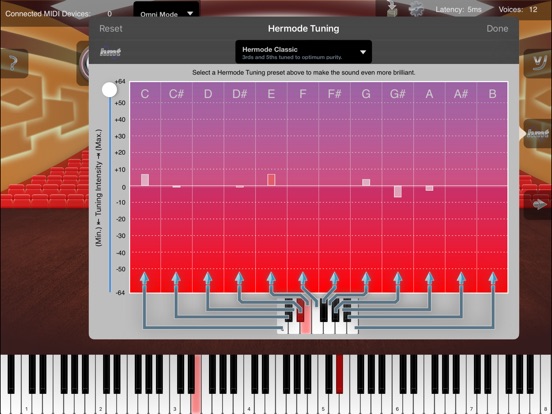 iPhone Screenshots: