Discchord Reader Rating: Needs Votes
App History
update
Version 1.3.2
Feb 22, 2018
update
Version 1.3.1
Feb 17, 2018
update
Version 1.3.0
Feb 15, 2018
update
Version 1.2.5
Feb 05, 2018
update
Version 1.2.4
Jan 15, 2018
update
Version 1.2.3
Jan 12, 2018
arrow_drop_up
$18.99
Jan 09, 2018
update
Version 1.2.2
Jan 08, 2018
update
Version 1.2.1
Jan 06, 2018
update
Version 1.2
Jan 04, 2018
update
Version 1.0.2
Dec 23, 2017
update
Version 1.1.2
Dec 30, 2017
fiber_new
New App: $9.99, v1.0.2
Dec 23, 2017
Other apps by Dmitrij Pavlov

iTunes Description:

Our users will tell better than us:

"A really good groove box, so easy to get beats and hooks going in moments and the sound is just stunning!" - App Store review

"Well this is something special I can tell you, so much has gone into this and many people are going to just love this" - thesoundtestroom

"Lots of preinstalled sounds, effects and the usability is there. It allows you to be as creative as you like with no need for the numerous sub-menus you find on other software" - App Store review

"This is a very well thought out and inspirational app. It goes much further than just electronic dance music... Highly recommended!" - App Store review

"Where has this been my whole life!... Gorgeous, user friendly, simple and sonically vibrant" - App Store review
-------
Groove Rider GR-16 is a professional step-sequenced groove box, inspired by professional hardware drum machines and rhythm boxes. It has a powerful Poison-202 based two oscillator synthesizer engine, plus a big variety of included PCM drum samples, insert/send/master effects, arpeggiator, automation recording, modulator, ADSR and filter block, and more! Built-in factory pattern library includes patterns in different music styles, which will inspire you (the list will be appended with the regular updates). Check out the patterns demo video:

https://www.youtube.com/watch?v=3rnGM_rL2cY

One remarkable feature of GR-16 is that all the controls are arranged on one screen, just like on a real groove box device! It lets you access almost all useful parameters from the one screen. Forget about numerous sub-windows and dialogs, which ruined your inspiration in another musical apps! Groove Rider is the fastest path from your imagination to reality!

You can use GR-16 as a ready-to-go realtime musical instrument (groove box) in your jam sessions together with Ableton Link feature to synchronize it with your other music gear. Groove Rider is also very handy for quickly sketching your musical ideas, allowing you to instantly record them directly by using the Record function. Making music becomes easy and fun, in contrast with boring note drawing process and dealing with tons of files and expensive plugins in the DAW's! Don't loose your inspiration, boost it up with Groove Rider!

Features:

• supports Ableton Link, AudioBus, AudioShare, Inter-App Audio, Core Midi and Virtual Midi input

• synth engine is Poison-202 based: 2 oscillators, 5 waveforms (Saw, Pulse, Sine, Triangle and Super-Saw)
• synth oscillator modulation types: Ring, Sync, PW and XFM
• 83 available oscillator configurations
• Filter module with LP, BP, HP, Notch type filters, 12 and 24 dB/octave
• amp module
• ADSR envelope, assignable to Amp and Filter
• Modulator module with 9 LFO modulation shapes x 6 modulation destinations (Pitch, Filter, Level, Pan, Osc Edit, IFX Edit)
• voice portamento (Slide)

• polyphony up to 32 voices
• 16 sounding parts per pattern
• 16 steps x 4 bars per each part
• each step consist of up to 4 voices (notes)
• each step can be time shifted forward/backward a fractional value
• assignable strokes for each step (to play several notes at one step)
• assignable step trigger conditions for each note

• 12 send effect types, one send effect per pattern
• 22 master effect types, one master effect per pattern
• 34 insert effect types, one insert effect per each part
• master Limiter (can be switched on/off)
• Arpeggiator with 6 modes and 50 rhythm patterns
• Scale play mode with 36 different scales to select from
• Chords and Notes play mode
• more than 30 different midi groove templates

• up to 256 user patterns to store in one user pattern bank
• import & export user patterns and banks via share sheet
• pattern audio export in 16, 24 and 32 bit wav format
• Ableton Live Set export
• 25 interface skins

Minimum recommended devices:
• iPhone 5 and newer
• iPad Air and newer

Guide:
https://www.jimaudio.pro/grooverider/grooverider_manual.pdf

JimAudio website:
https://www.jimaudio.pro
What's new in v1.3.2

In this version (1.3.2):
- "Save to New..." function during playback now immediately switches to the new saved pattern without having to wait for current pattern to end;
- "Export Pattern Audio" functions were renamed to "Render Pattern Audio" for clarity; and "Export Pattern" (.gr16 format) functions were renamed to "Share Pattern" accordingly;
- "Render Chain Audio" and "Render Chain Stems" functions added, allowing you to render a chain of patterns, starting from current pattern, into one big audio file (or stems archive) for export. Be sure to turn "Chain Mode: On" setting to enable and use these functions;
- a progress bar added when rendering audio, with the "Cancel" button, allowing you to cancel rendering in the middle of the process if needed;
- bug fixed: patterns with non-standard rhythm base (especially 16 Triplets) were playing back and chained incorrectly;
- several minor, but important bug fixes.

In previous version (1.3.1):
- bug fixed: deleting user samples was not working;
- in the Step Editor you can now select multiple notes (steps) at a time (range selection): hold down SHIFT, tap and drag the notes area. You can then edit parameters of these selected notes simultaneously (for example, transpose selected notes, or assign the same Stroke/Condition value to a bunch of notes etc.);
- import sample: you are now prompted to rename a sample if it already exists in the User samples folder.
iPad Screenshots: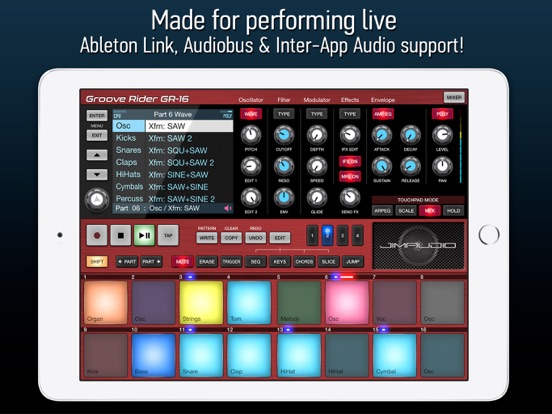 iPhone Screenshots: