Discchord Reader Rating: Needs Votes
This app has not been categorized.
App History
update
Version 2.1.1
Mar 14, 2018
arrow_drop_down
$4.99
Mar 13, 2018
arrow_drop_up
$5.99
Mar 12, 2018
arrow_drop_down
$2.99
Mar 08, 2018
update
Version 2.1.0
Mar 07, 2018
arrow_drop_up
$4.99
Feb 12, 2018
update
Version 2.0.2
Jan 16, 2018
fiber_new
New App: $3.99, v2.0.2
Dec 18, 2017
iTunes Description:

Grid Music is a 2-dimensional MIDI step sequencer. It can be used to compose classic 16-step patterns, but can also create loops, random branches, and polyrhythm. Its 5×5 grid allows for countless arrangements of melody and timbre while keeping the entire composition visible and easy to understand. Pitch and rhythm can be directly manipulated by touch, and the structure of a pattern can be altered in just a few taps.

• Send MIDI notes and control change messages to compatible synthesizer apps. If you have a compatible MIDI interface and the Lightning to USB Camera Adapter, Grid Music can control an external MIDI synthesizer.

• Easy to use built-in synthesizer featuring envelope settings, PWM, and vibrato.

• Randomize button for quickly exploring new melodies.

• Pitch quantization ensures that notes are always in key and makes it simple to create chord progressions. Includes several scale and chord options.

• Multiple levels of undo while editing patterns.

• Perform songs with perfect timing using synchronized pattern queueing.

• Support for Ableton Link allows Grid Music to play in time with other apps and devices.

• Support for the iOS Files app makes it easy to organize your compositions and access them from multiple devices.
What's new in v2.1.1

Fixed in 2.1.1:

- Grid Music would sometimes keep Ableton Link active when not needed.
- MIDI output devices could be shown as connected if they were disconnected while Grid Music was in a suspended state.

New in 2.1:

- Grid Music can now control other synthesizers via MIDI.
- Randomize button, which randomizes the values of a pattern's note cells.
- When editing a pattern, you can undo changes like randomization, adding or removing connections, changing cell values, and more.
- More scale options for pitch quantization, including triads and sevenths.
- The synthesizer now supports a sustain parameter.
iPad Screenshots: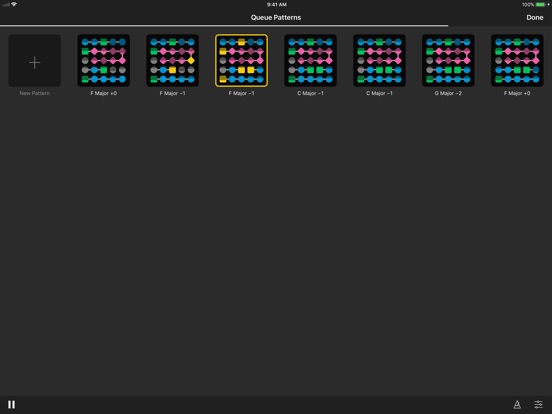 iPhone Screenshots: