Discchord Reader Rating: Not Enough Votes
This app has not been categorized.
iTunes Description:

REFLECTION is the most recent of my Ambient experiments and represents the most sophisticated of them so far. My original intention with Ambient music was to make endless music, music that would be there as long as you wanted it to be. I wanted also that this music would unfold differently all the time - 'like sitting by a river': it's always the same river, but it's always changing. But recordings - whether vinyl, cassette or CD - are limited in length, and replay identically each time you listen to them. So in the past I was limited to making the systems which make the music, but then recording 30 minutes or an hour and releasing that. REFLECTION in its album form - on vinyl or CD - is like this. But the app by which REFLECTION is produced is not restricted: it creates an endless and endlessly changing version of the piece of music.

Minimum requirements:

iPad 3
iPhone 5
iPad mini 2
AppleTV (4th generation)
What's new in v1.0.2

This version includes a sleep timer and an icon that allows you to route audio to Airplay and Bluetooth speakers without leaving the app. Access these by tapping on the screen during playback.

The display now shows a wider range of colours, and a bug which on are occasions caused the images to stop changing has been fixed.

Special thanks to Kirk McElhearn for providing valuable feedback.
iPad Screenshots: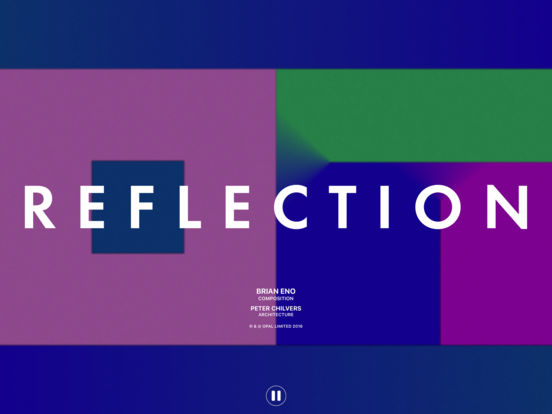 iPhone Screenshots: