Discchord Reader Rating: Not Enough Votes
Category:
DAW
Rank in Category:
iTunes Description:

Record and playback a virtually unlimited number of audio and MIDI tracks, mix them during playback and add effects. Edit your song and share it with your friends, or join the Songtree community and jam with other artists.

HOW IT WORKS:
Record a base track with the built-in mic or an external sound card
Add other audio tracks or create a melody using the internal keyboard or the built-in virtual instruments
Import a groove or create it using the step sequencer
Use the mixer to adjust levels, pan, apply equalization and add effects
Save or Share the recording directly from your device to your friends

MAIN FEATURES:
• Stereo and mono audio tracks
• Virtually unlimited number of tracks (max 11 tracks without in-app purchases)
• Group and Aux channels
• MIDI tracks with builtin synth featuring 128 General MIDI instrument sounds
• Pianoroll MIDI editor
• Step Sequencer
• On-screen MIDI keyboard
• On-screen MIDI Drums
• EQ with 2D and 3D Spectrum analyzer + chromatic tuner
• Import existing tracks from your iTunes library
• Reverb, Echo, Chorus+Flanger, Tremolo, Pitch Shift, Phaser, - Tube-Amp and Compression effects can be added to any track and master channel
• Virtual instruments library
• Automate track volumes and pan using volume and pan envelopes
• Supports the new AudioUnit plug-in standard: open 3rd party effects and instruments inside the app, without switching to another app
• Audiobus input and output: you can send audio from other apps to n-Track, play your favorite instrument app and record the output inside n-Track alongside the device mic/line input. Each Audiobus app can be recorded to a separate track
• Interapp audio: receive audio from instrument apps, use other apps as effects or host n-Track inside another app
• Share your recordings on Facebook
• Collaborate to create music with other musicians with the integrated Songtree online music making community
• Quick one touch drums and bass grooves tracks
• Built-in metronome
• AU3 support

ADVANCED FEATURES:
• 64 bit double precision floating point audio engine
Internal audio routing
• Support for multichannel external audio devices on the iPad: record 4 or more tracks simultaneously from pro-audio devices such as the RME Babyface, Fireface, Focusrite Scarlett etc.
• Support for multiple audio output when using compatible USB devices
• Record 16, 24 or 32 bits audio files
• Set sampling frequency up to 192 kHz (frequencies above 48 kHz require an external audio device)
• Sync with other apps or external devices using MIDI clock and MTC sync, master & slave
• Choose microphone on multi-mic devices and set microphone polar pattern (e.g. cardiod, omnidirectional)
• Allows monitoring and processing live audio input with near-zero latency
• AudioCopy 2.0 allows transferring audio files between compatible apps
• Support for DropBox and SoundCloud
• MIDI input monitoring



PRIVACY POLICY
http://ntrack.com/privacy-policy.php
What's new in v1.2.3

- iOS 11 ready
- New help page with tutorial videos and updated user guide

If you have comments or bug reports please contact us at support@ntrack.com
If you like the app please remember to leave a review on the App Store. Good reviews will allow us to keep making n-Track better.
Thanks for using n-Track!
iPad Screenshots: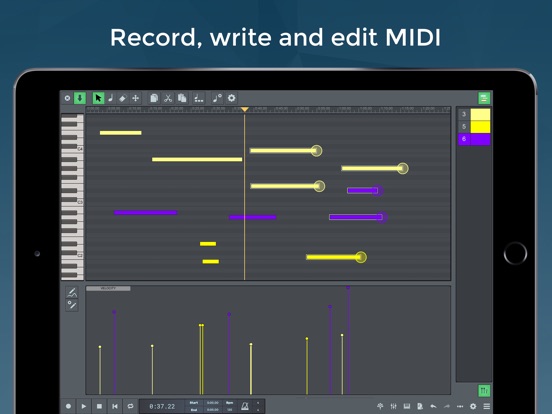 iPhone Screenshots: