Discchord Reader Rating: 90% (10)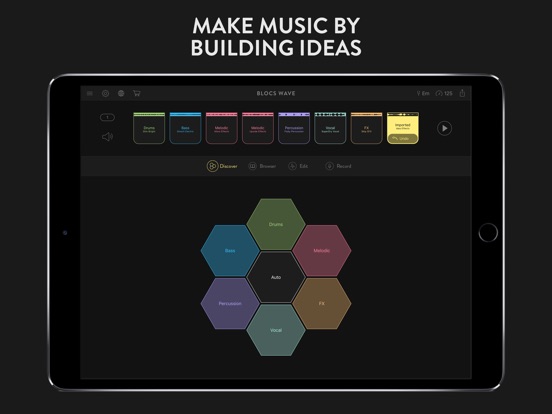 App History
update
Version 13.0.1
Dec 04, 2017
update
Version 13.0
Oct 19, 2017
update
Version 12.2.2
Oct 03, 2017
update
Version 12.2.1
Aug 22, 2017
update
Version 12.2
Aug 18, 2017
update
Version 12.1
May 09, 2017
update
Version 12.0
Apr 25, 2017
arrow_drop_down
Free
Apr 25, 2017
update
Version 11.0
Feb 21, 2017
update
Version 10.2
Jan 19, 2017
update
Version 10.1
Nov 25, 2016
update
Version 10.0
Nov 16, 2016
arrow_drop_down
$2.99
Nov 15, 2016
arrow_drop_up
$6.99
Nov 06, 2016
arrow_drop_down
$2.99
Nov 04, 2016
arrow_drop_up
$6.99
Oct 27, 2016
update
Version 9.0
Oct 25, 2016
arrow_drop_down
$2.99
Oct 20, 2016
update
Version 8.4
Oct 12, 2016
update
Version 8.3
Oct 05, 2016
Other apps by Novation


iTunes Description:

** Free to download **

Blocs Wave is a fun and beautifully designed music app for making and recording new music quickly. For songwriters and electronic music makers alike, it is an on-the-move powerful portable music studio.

Start new musical ideas by discovering new sounds across genres. Make your tunes unique by slicing and rearranging your sounds. Play with beautiful touchable waveforms and build up loops in real-time by recording your voice or other sounds, and build bigger ideas using song sections. Blocs Wave is also great for live looping, thanks to its real-time stretch and pitch engine.

Features
• Find ideas quickly - Combine sounds across genres
• Play with sounds - Beautiful, touchable waveforms
• Record new sounds - Capture your own vocals and instruments
• Explore a huge sound library - Find amazing sounds across genres from electronic to indie, EDM to songwriting, and more
• Expand your collection - Download more sounds from an ever-expanding soundpack library
• Chop up sounds - Use Slice Mode to make every sound unique (In-App Purchase)
• Export your music - Create a mixdown or export individual tracks
• Shape your sound - 3-band EQ for boosting bass and mixing sounds (In-App Purchase)
• Launchpad Soundpack sharing - Get hundreds more genres and styles through our Launchpad for iOS app

Advanced Features
• Real-time stretching - Change tempo while playing
• Real-time recording - Build up live recorded loops in real-time
• Import - Bring in your own sounds from other apps (In-App Purchase)
• Key aware - All library sounds stay in-key with each other
• User library - Manage your recorded and imported sounds
• Works well with others - Supports Audiobus, AudioCopy/AudioShare and hardware input
• Jam in sync - Supports Ableton Link

Compatible with iPad (2, 3rd gen., 4th gen.), iPad Air (1/2), iPad Mini (1/2/3/4), iPad Pro (12.9", 9.7"), iPhone 8/8Plus, 7/7 Plus, 6/6s Plus, 6/6s, SE, 5/5s/5c, 4s.

Supports iOS 8, 9, 10, 11.

For more support enquires please visit: http://ampifymusic.com/support

Follow us on Facebook, Twitter and Instagram:
www.twitter.com/WeAreAmpify
www.facebook.com/WeAreAmpify
www.instagram.com/WeAreAmpify
What's new in v13.0.1

An equaliser (EQ) is one of the most important tools for shaping sound when creating a song. We've added a beautiful, high-quality, yet intuitive 3-band visual EQ to Blocs Wave, available now as an In-App Purchase.

Highlight Features
- 3-band visual EQ for iPhone and iPad (In-App Purchase)
- Beautiful design follows the colours of the sounds
- Preview before purchase

Other Improvements
- Bug fixes

We really appreciate your feedback. If you have comments, questions or feature requests, let us know at support@ampifymusic.com or ampifymusic.com/survey. If you like Blocs Wave and have a minute to spare, please review it in the app store. You can also review the app on iPhone from within the in-app menu.
iPad Screenshots: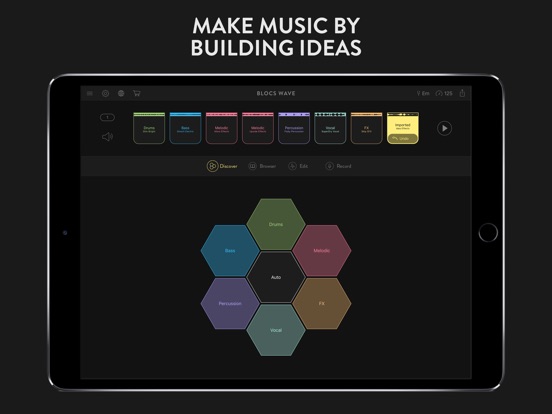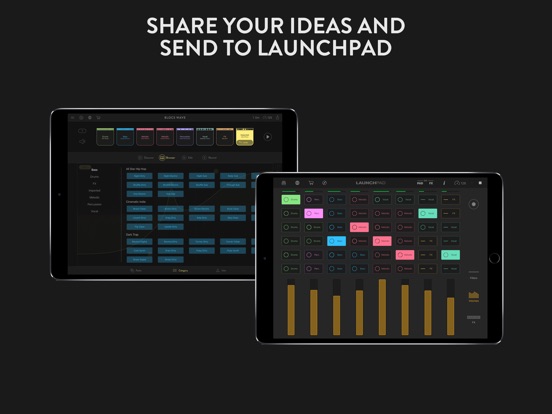 iPhone Screenshots: