Discchord Reader Rating: 100% (12)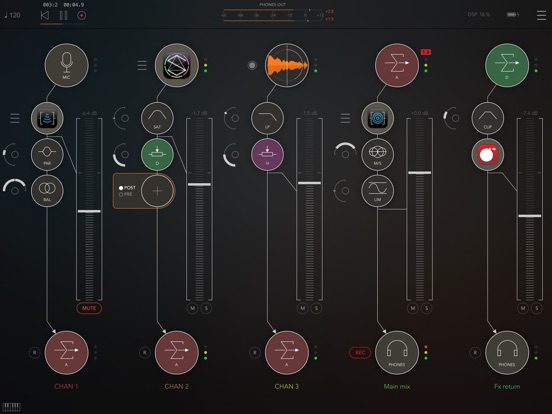 App History
arrow_drop_up
$18.99
Nov 27, 2017
arrow_drop_down
$15.99
Nov 23, 2017
update
Version 1.2.4
Nov 22, 2017
update
Version 1.2.3
Nov 12, 2017
update
Version 1.2.2
Oct 11, 2017
update
Version 1.2.1
Sep 10, 2017
update
Version 1.2
May 17, 2017
arrow_drop_up
$18.99
Nov 28, 2016
arrow_drop_down
$16.99
Nov 24, 2016
arrow_drop_up
$18.99
Nov 03, 2016
arrow_drop_down
$15.99
Oct 27, 2016
arrow_drop_up
$18.99
Apr 01, 2016
update
Version 1.1
Mar 25, 2016
arrow_drop_down
$14.99
Mar 24, 2016
arrow_drop_up
$19.99
Mar 01, 2016
fiber_new
New App: $9.99
Feb 24, 2016
Other apps by Kymatica AB


iTunes Description:

AUM is the flexible audio mixer, recorder, and connection hub for your iPad, iPhone and iPod touch.

Connect hardware inputs and outputs, Audio Unit extensions, Inter-App Audio apps, Audiobus, soundfile players, built-in signal processing and filters, in any configuration you want.

Route anything to anywhere with mix-busses, effect sends, audiobus ports, and external multi-channel audio interfaces.

Play hosted synths and instruments using the built-in keyboard or external MIDI controllers, or sequence them with AU MIDI plugins or from other apps using Virtual MIDI.

Record mixes, individual tracks, or both, straight into the storage space of AudioShare (no copying of files needed), with synchronized start and end for perfect loops.

Play back recordings, soundfiles and loops as channel sources in the mixer for backing tracks, further processing or mixing.

Route MIDI in any way you like using the MIDI matrix.

Synchronize everything with the transport clock and play in time with other apps or devices using Ableton Link, a new technology that synchronizes beat, phase and tempo of Ableton Live and Link-enabled iOS apps over a wireless network. Connect external music machines and synchronize them with MIDI Clock.

Includes built-in processing nodes for various stereo processing, Mid/Side balance and conversion, EQs and filters, limiting, clipping and saturation. Or use any 3rd party Audio Unit extension or Inter-App Audio effect.

All controls in the mixer can be controlled via MIDI, including parameters of hosted and built-in plugins.

"A brilliant idea that has been brilliantly executed. Top-notch technical stuff and highly recommended" - MusicAppBlog

"Feature rich, powerful, intuitive, and simple to use" - DubSpot

"Executes live mixing with surprising ease, with a load of extensive features under the hood, quick snappy response on the screen and audio" - AudioNewsRoom

FEATURES

• High quality audio up to 32-bit 96kHz
• Clean and intuitive user interface with crisp vector graphics
• Extremely compact and optimized code, very small app size
• Unlimited number of channels
• Unlimited number of effect slots
• Inserts and sends are configurable pre/post-fader
• Internal busses for mixing or effect sends
• Supports multi-channel audio interfaces for both inputs and outputs
• Supports Audio Unit extensions, Inter-App Audio and Audiobus
• Route MIDI output from Audio Unit extensions
• Audiobus state saving
• Highly accurate transport clock
• Metronome with selectable output and optional pre-roll
• Sends host sync to Audio Unit plugins and IAA apps
• Play in time with Ableton Link
• Synchronize external hardware via MIDI Clock
• FilePlayer with sync and looping with access to all AudioShare files
• Records straight into AudioShare storage space
• Record synchronized beat-perfect loops
• Built-in nodes for stereo processing, filtering and dynamics
• Latency compensation makes everything align at the outputs
• Separate Inter-App Audio / Audiobus output ports
• Built-in MIDI keyboard
• Fully MIDI controllable
• MIDI Matrix for routing MIDI anywhere

BUILT-IN SIGNAL PROCESSING

• Stereo balance
• Stereo to mono
• Stereo panning
• Mid/Side balance
• Mid/Side - Stereo convert
• Invert Phase
• Parametric EQ
• Low-shelf filter
• High-shelf filter
• Low-pass resonant filter
• High-pass resonant filter
• First order All-pass filter
• Second order All-pass filter
• Gain
• Hard clip
• Saturation
• Lookahead peak limiter
What's new in v1.2.4

- Avoid delayed touch for all screen edges, also on iPhones.
- Add support for bookmarking channels for quickly jumping there later.
- Double-tap AU plugin title bar once for default size, again for fullscreen.
- Save AU plugin view sizes in saved session.
- Remember folder name when restoring last session.
- Highlight DSP% label if it goes to 99 or higher.
- Display first 6 characters of an AU's `audioUnitShortName` property. (Hello developers!)
- Various fixes and minor tweaks.
iPad Screenshots: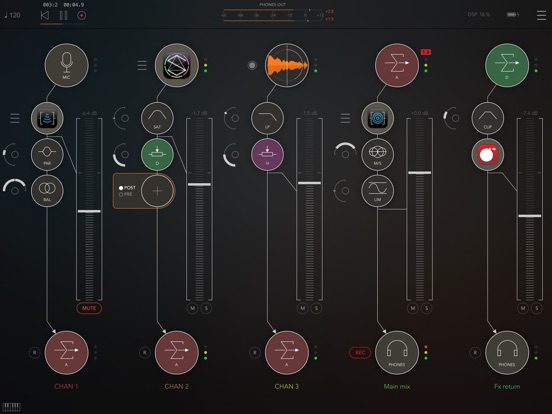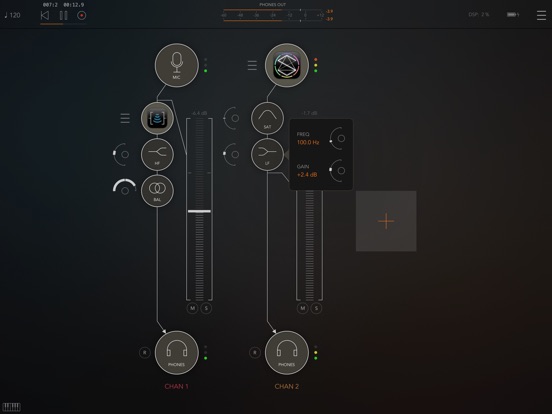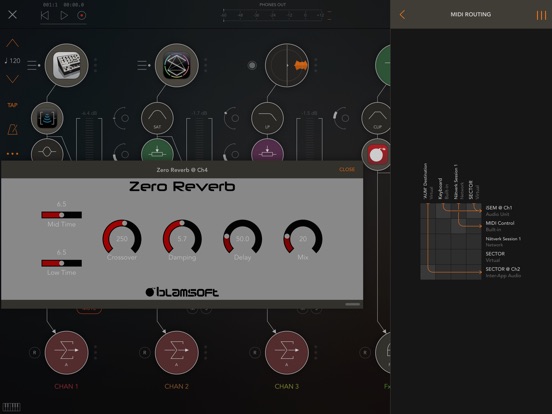 iPhone Screenshots: