Discchord Reader Rating: Needs Votes
iTunes Description:

An intuitive interface, jam-packed with features, powerful customisation and flawless accuracy. The Metronome is a must-have for every musician.

——————————

We didn't like existing metronome apps very much. So we made a better one. The Metronome by Soundbrenner is designed to be a professional tool to help all musicians to play with rock-solid precision. It's a powerful companion for everyone, regardless of instrument choice or skill level. The Metronome by Soundbrenner works great for daily practice, live performances or in the recording studio.

Highlights:
- Precise metronome packed into an intuitive, beautiful interface.
- Change your time signature, choose a subdivision and set accents.
- Powerful customization. Choose from different click sounds, enable Camera LED/Screen flash.
- World class setlist management. Save your own rhythms and load them in the Metronome.
- Dark and light theme designed to be functional. You have the power of choice.

"It's sleek and easily understood in seconds. And the controls are great, fast and intuitive. It's what all musicians need." - Pete Korpela (Percussionist, played with Robbie Williams, Josh Groban, The Lion King National Tour, Cirque Du Soleil, Death Cab for Cutie, Jesse Carmichael from Maroon 5 and many more)

Soundbrenner was previously featured on Techcrunch, Gizmodo, Guitar Player, Guitar.com, MusicRadar, CNET, Yahoo, VentureBeat, ZDNet, Gizmag and SlashGear.

About Soundbrenner:
We're building the future of rhythm. We're also the makers of the world's first smart wearable for musicians. Learn more on www.soundbrenner.com

Follow us:
Facebook: www.facebook.com/soundbrenner
Instagram: www.instagram.com/soundbrenner
Twitter: www.twitter.com/soundbrenner
Pinterest: www.pinterest.com/soundbrenner
What's new in v1.12.1

Making music with the Soundbrenner Pulse will be easier than ever with our newest February Update.

We strive to make The Metronome app the best it can be. If you have a spare minute, please leave a review for our app. It's a huge help! Thank you.

[NEW]
• Audiobus is now integrated into the app. The Metronome can now connect up to 900 more iOS music and sound apps with the Audiobus app.
• Ableton Link 3.0.0 enabled. Simultaneously Play & Pause all synchronized apps directly from the Metronome only.

[IMPROVED]
• Upgraded Bluetooth MIDI. Share tempo information with any external devices with Bluetooth MIDI, such as loop pedals and sequencers, and connect them with the Soundbrenner Pulse without a DAW.

[FIXED]
• Major and minor bug fixes, minimizing app crashes.
• Fixed an issue where the Metronome Timer continues even when accessing over parts of the app.
iPad Screenshots: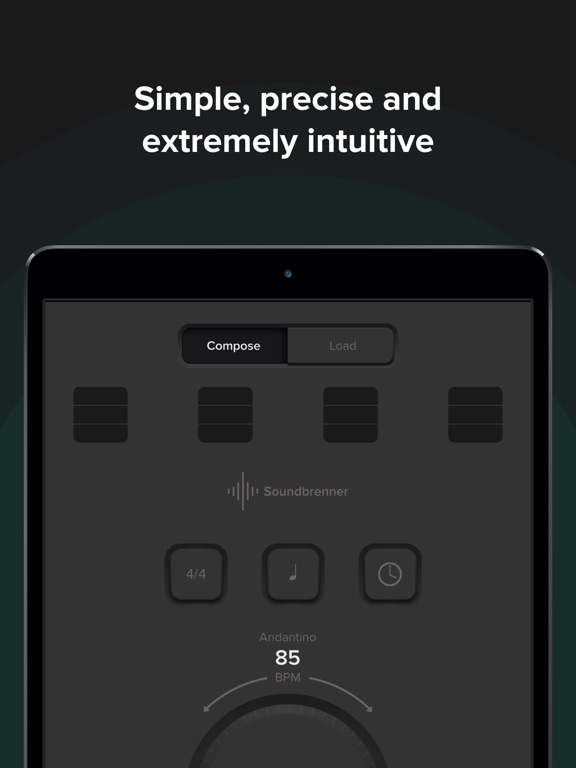 iPhone Screenshots: