Poison-202 Vintage MIDI Synthesizer, from Dmitrij Pavlov, was updated with Audiobus state-saving, an improved modulation engine, and a new factory bank with 100 patches.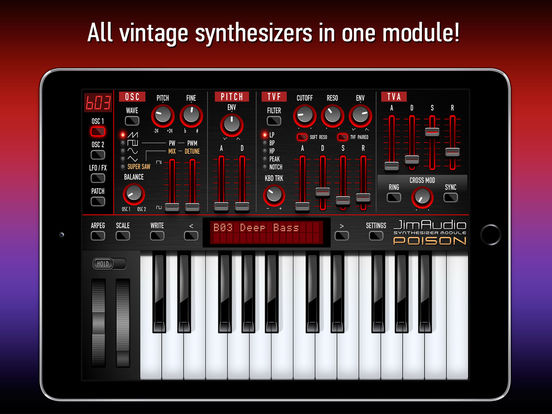 What's new in Poison-202 v2.0:

• Audiobus support added with state-saving;
• XFM modulation engine improved: cleaner XFM-modulated sound achieved;
• XFM modulation is now interpolated (smooth changes, no micro-steps) when controlling it with Modulation Wheel;
• bug fixed that could cause issues with certain hosts with large audio buffer size (e.g. Multitrack Studio app);
• fix: some factory patches were transposed to normal pitch;
• new Poison-202 app icon;
• new factory bank with 100 patches added: Essentials Soundpack by Fabio Ribeiro - Brazilian producer and keyboardist with the band "Remove Silence". The collection contains lots of classic sounds from the 70's and 80's, modern and evolving textures, leads, basses, pads and sound effects. It also contains some famous patches from artists such as Rick Wakeman, Pink Floyd, Uriah Heep, Black Sabbath, Triumvirat, and more;
• plus, special opportunity for all current Poison-202 users to get 50% discount coupon to buy the newly released VSTi/AU version of Poison-202 for Mac!